DON'T GUESS HOW MUCH AN ELECTRICIAN
WILL CHARGE!
Get up to 4 quotes so you aren't surprised with a sky-high bill for electrical services.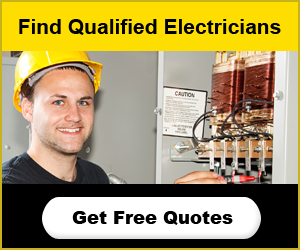 We get local electrical contractors in your area who are looking for work to give you a competitive quote so you don't have to chase around for a contractor who has time to help you with your project.
Just click on the GET FREE QUOTES button  ——–> and tell us about what you need.  We'll do the chasing around for you.
This is a completely FREE service to help you save time and money!  Your time is valuable and we hate to see people wasting their time calling around and finding out that a contractor doesn't have the time or isn't interested in the project because it's too "small" or they are "booked for 3 weeks".
Get licensed, expert and conscientious electrical help for your home or business property and have the peace of mind that you got the best price for your electrical repair or installation.
Click on the GET FREE QUOTES button, fill out your request and let us do the rest for you!
---
---